What it is?
This hugely popular treatment is deeply relaxing and therapeutic. Stones and crystals have been used to calm both body and mind for thousands of years. Native Americans would warm stones by the open fire and use to ease aching muscles and what better way than to use what is there in nature to help us to relax.
A lady from Arizona 'Mary Nelson' brought her style of this traditional treatment to the modern world and called it 'La Stone Therapy' it got a huge response and is ideal for experienced massage therapists to add to their skills.
Now more widely known as 'Hot Stone Therapy' or 'Hot Stone Massage' this treatment consists of black basalt stones (specially chosen as they hold the heat) that are used in various shapes and sizes as an extension of the therapist's hands to release deep held stress and tension.
The soothing sensation of heated stones penetrates the muscles and calms the nervous system resulting in a feeling of calm and balancing the body as a whole.
What it is not:
It is NOT Very Hot Stones, Garden stones or just placing on of stones.
What is it good for?
Relaxation
Increase joint flexibility
To calm an over-active mind
To relieve stress and tension
Decrease muscle spasms and tension
To soothe muscular aches and pains
Arthritis and joint problems (if not severe)
Improves circulation
Helps stimulate the lymphatic system (the body's way of removing toxins)
Insomnia
Pain relief
Anxiety
Who is it NOT suitable for?
It is not suitable for people with high blood pressure, heart or circulation problems, cancer, diabetes, certain skin problems, sunburn or menopausal women because of the heat generated.
Also not ideal in very hot weather as the skin holds the heat.
What happens during a Hot Stone Treatment?
Prior to arrival the therapist will sanitise and heat the black basalt stones in a specialised heater. Then if using the cold marble stones will be placed in cold water.
After a full initial consultation to check client suitability for the treatment the therapist will start with some Swedish massage using a massage oil, then after heating his/her hands with some stones he/she massages the client with heated hands.  As the stones cool the therapist uses the stones as an extension of his/her hands to massage you, replacing the stones as they cool.  Different stones are used for various areas of the body and face for best effect.
Some stones will be placed on the face or body and left there for a while; this further enhances the treatment and is deeply relaxing.
The treatment is interspersed with massage movements and should be smooth and flowing for the most relaxing experience.
How many sessions will I need?
Ideally a course of one per week for six to eight weeks for specific concerns or as a one off or a special treat if just for relaxation.
How long is a session?
The first session is usually 1 hour 15 minutes to allow for a consultation then each session is around 1 hour or 1 hour 30 minutes for the Luxury Hot/Cold stone treatment.
What is Hot and cold stone treatment?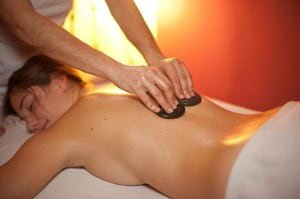 Another treatment is using a combination of both hot and cold stones (usually marble or Jade) these have the same naturopathic principles that would be found in sitting in a sauna then going in a cool plunge pool as it improves the circulation and digestion and also aids the detoxification of the body.
Cold stones improve the cells ability to produce more oxygen and nutrients and   help with removal of toxins.
Alternating hot and cold stones is also excellent for toning and improving the skin condition when used in a facial and cooling for tired or puffy eyes.
How can crystals help in a hot stone treatment?
Different crystals have various healing benefits and can help to balance the chakra's (the body's energy centres) so are a useful addition to a professional hot stone treatment, they are often left on while some of the hot stones are left on the body or face to help re-energise and calm.
For more information, contact either:
E-mail: Lorna at:  pureessencetherapies@gmail.com
Tel: 07730 484 209
Lorna Gray IIHHT IHBC MGBT Coun.Dip
Head of Training at Birmingham Holistic Health Centre
Holistic Therapist, Tutor, Counsellor and Visualisation Coach